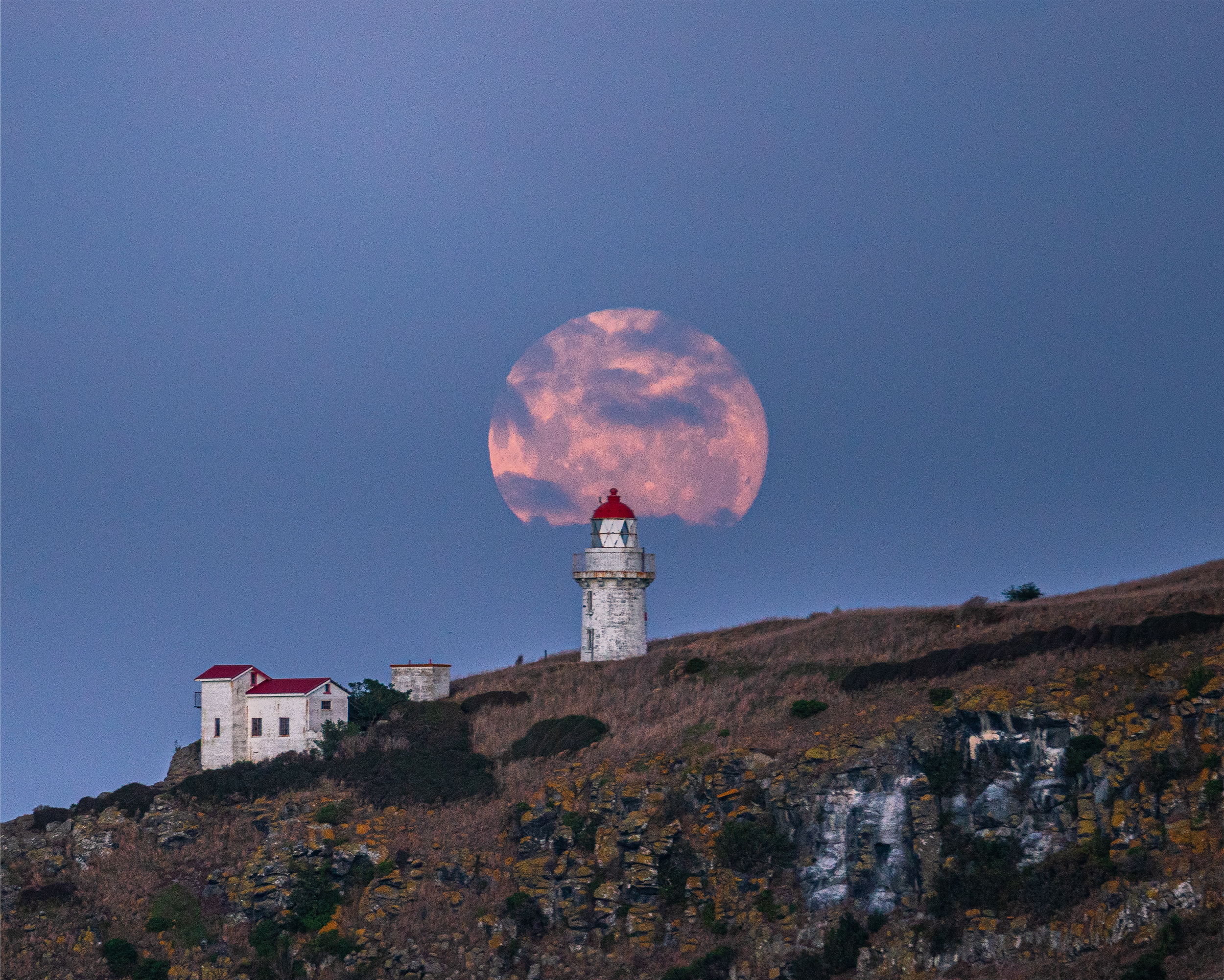 ---
Moon over the Taiaroa Head Lighthouse | Dilanka Wijesekara
---
Location: Aramoana Beach | Date: 16/04/2022
---
Natural Category Winner
Artist comment: "This is one of my dream shots. I planned this shot ages ago, and finally, I succeeded in my 8th attempt. The Aramoana is windy and cloudy most of the time. It is tough to find a clear sky to capture the full moon rising over the horizon even though it is in clear middle of the sky. Very dark thick clouds always cover the horizon. In my last unsuccessful attempt, I realised that the Taiaroa Head lighthouse is approximately 56 meters high from sea level. Then the next full moon rising day, I successfully plan this shot."
Judges comment: The judges have a full appreciation of the planning that has gone into capturing this image (and the perseverance in trying again and again when conditions just don't work out). Even here, we can see that cloud near the horizon was very close to ruining the image. Timing and positioning are critical. While the PhotoPills app is an excellent resource for planning these images, but we know from personal knowledge of this site that a variation of just a few meters in camera position can make all the difference. The image has been captured at a time of the year when the location of the full moon on the ecliptic keeps the photographer positioned at the southern end of the Aramoana Mole, still some distance from the lighthouse. This helps with image scale and accentuating the "large moon illusion" created with a telephoto lens. In end, well worth the effort.
---
Camera Settings
Sony A7r ii
f5.6
Iso 1200
1/30 seconds
---
Media Details
Dimensions: 61cm x 49cm | Media: Canvas
---
Sale Details
$350 (inc GST) | Buy Now!
Email us to enquire about purchasing this image in different media or sizes.
---
Share on Facebook
|
Share on Twitter
---
---
---